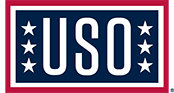 Thank you for visiting the USO's alternative giving catalog. We're busy working to make our Wishbook even better. In the meantime, please feel free to send any of our troop's most requested gifts below:
Your Shopping Cart:
0 items selected = $0 Empty Cart
Comfort Food Package
Send our troops a taste of home with cookies, crackers, coffee and more.
Quantity:
Phone Calls Home
Bring a loved one's voice to the front lines and around the world.
Quantity:
Welcome a Hero Home
Help the USO welcome our troops after a long flight home.
Quantity:
Tech to Connect
Keep our troops linked to family and friends with a fully stocked technology room.
Quantity:
Your Shopping Cart:
0 items selected = $0 Empty Cart