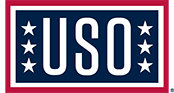 The USO is working to reach even more of our heroes on the front lines, but we need your help! Send a gift to keep our service members connected to family, home and country.
SAG-AFTRA is working alongside the USO to offer support, care and hope to service members stationed around the globe. Donate today by selecting one of the options below and make a holiday gift in honor of the troops and their families.
Your Shopping Cart:
0 items selected = $0 Empty Cart
Comfort Food Package
Send our troops a taste of home with cookies, crackers, coffee and more.
Quantity:
Phone Calls Home
Bring a loved one's voice to the front lines and around the world.
Quantity:
Welcome a Hero Home
Help the USO welcome our troops after a long flight home.
Quantity:
Tech to Connect
Keep our troops linked to family and friends with a fully stocked technology room.
Quantity:
Your Shopping Cart:
0 items selected = $0 Empty Cart